The Historic Ohio Brown County Inn
See what we are up to with our ever widening community of music-loving friends!
Concert Series

We operate as a Non-profit house concert series, (with all volunteers) bringing...
Exciting World Class Singer/Songwriter Award winning Recording Artists & bands to rural southern Ohio.
100% of donations for concerts go directly to the artists.
Full length concerts . Original music.
Intimate and Unique Historic Setting
Potluck hors d'oeuvres and drinks

Make your Concert Reservations today!

Use PAYPAL (below) to pay direct with no fees!


Check out our artists & their music...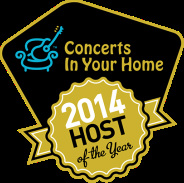 What is so special about
The Ohio Brown County Inn Concert Series?....

"The Ohio Brown County Inn is the kind of surreal setting that can make you feel you've been transported to another era. The details in this nineteenth century home; wide open porches, high ceilings, elegant staircase are awe inspiring. I couldn't think of a better place to put a storytelling musician like myself. You feel like you become part of the history there, whether you are in the audience or on stage. Julie and James make the night feel like an event as well. The food is spread, the wine poured, the coffee is brewing.It's this kind of an ideal setting where a community gathers that makes a performer play their very best. Highly recommended for both artist and audience member." - Ellis Paul Singer/Songwriter



"A perfect Sunday afternoon and the perfect setting for a house concert. Sharing songs and stories with family and friends is really what my music is all about, and our recent concert at the Ohio Brown County Inn was truly one my favorite house concerts of the year.
The audience was warm and receptive... and appreciative of the music... and we couldn't ask for better hospitality from our hosts, Julie and James. What a pleasure to spend some time with them and their family... good food, relaxing and stimulating conversations and the bucolic setting was balm to this traveling musician's soul... and the music was pretty good too. Can't wait to come back." - Ronny Cox, Singer/Songwriter, Actor (Deliverance, Terminator, Robocop), Storyteller, Los Angeles, CA

"It was one of those magical musical evenings, where the energy was lively and reciprocated, building as the show progressed. The ambience, the history of this amazing space, the hospitality, the weather, everything just lined up sweetly, felt great and flowed almost effortlessly... I love when that happens!
Thanks so much to Julie Lynch & James Lynch. And also to daughter Katie for being our tireless and dedicated Merch Trooper for the evening!
Kim and I are so honored to have been invited to play the Brown County Inn concert series for a 2nd time - this time to a packed house of the best folks!There will hopefully be pictures posted at some point soon, I'll be sure to share. You must see this beautiful historic space. Thanks so much, everyone.
-Roy Schneider and Kim Mayfield, Musicians, Fort Myers, Fl.

"Ohio Brown County Inn is a rare and beautiful place among house concerts. Not only were our hosts friendly and open, they were also completely in tune with the needs of a professional touring act. We got the best of all worlds, the intimate and enthusiastic reception of a house concert. AND the professionalism and thoroughness of a larger venue. Oh, and don't forget the stunning old mansion that houses it all. Looking forward to the next show." - T Bruce Bowers, Musician, Composer, Violinist, Multi-Instrumentalist

"Julie runs one of the most enjoyable concert series we have had the pleasure to play. The Inn has a warm, wonderful sound, only enhanced by the large and attentive audience she provides. Though we booked the show with very short notice, everything went off without a hitch. She was kind enough to put us up for 2 nights around the show, and her family made us feel right at home. We will be looking for any excuses to return to Ohio so we can pass through Brown County again!" - The Currys (Jimmy Curry, Tommy Curry and Galen Curry) , Charlottesville, VA

""The Old Brown County Inn was a fantastic house concert. The family is a caring, thoughtful one, who not only treated me with kindness and love, but made sure the concert ran smoothly and was the best it could be. I was amazed with the lengths that the Lynches applied to the promotion of the show, as well as the hospitality shown to me. I felt like I was immediately adopted into the family as soon as I got to the house. Finding a house so welcoming is really a gem. I felt at home."" - Allie Farris, Singer/Songwriter, Nashville, TN

""This is an amazing old historic home in Ohio and definitely not to be missed when your touring through the area. I had a really nice time meeting Julie and her family and wish I could have stayed a few days to see the area and hang out in their beautiful home." - Annalise Emerick, Singer/ Songwriter, Nashville, TN

""There are house concerts and then there are !!House Concerts!! Old Brown County Inn is the latter. This is an amazing old inn that basically brings to life a Dickens novel right before your eyes. It is clearly meant to have music resonating through the high ceilings, all the way up the banister to the top floor. Julie and James Lynch are more than great hosts, they are beautiful peeps and their love of sharing music in their gorgeous home with friends and family is apparent. This one is a gooder. Trust me." - John Wort Hannam, Singer/Songwriter, Alberta, Canada


---