Welcome to our site!
The Historic Ohio Brown County Inn
A Gracious Gathering Place in the Country
We combine an appreciation of history, architecture and good books
as well as a passion for exceptional live music with the desire to share it with others.


Concert Series

Exciting World Class Musicians
Full length concerts
Intimate and Unique Setting
Home-style Potluck Concerts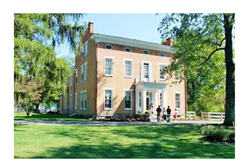 Reviews

"A perfect Sunday afternoon and the perfect setting for a house concert. Sharing songs and stories with family and friends is really what my music is all about, and our recent concert at the Ohio Brown County Inn was truly one my favorite house concerts of the year.
The audience was warm and receptive... and appreciative of the music... and we couldn't ask for better hospitality from our hosts, Julie and James. What a pleasure to spend some time with them and their family... good food, relaxing and stimulating conversations and the bucolic setting was balm to this traveling musician's soul... and the music was pretty good too. Can't wait to come back."
- Ronny Cox, Singer/Songwriter, Storyteller, Actor, Los Angeles, CA

"Ohio Brown County Inn is a rare and beautiful place among house concerts. Not only were our hosts friendly and open, they were also completely in tune with the needs of a professional touring act. We got the best of all worlds, the intimate and enthusiastic reception of a house concert. AND the professionalism and thoroughness of a larger venue. Oh, and don't forget the stunning old mansion that houses it all. Looking forward to the next show."

- T Bruce Bowers, Musician, Composer, Violinist, Multi-Instrumentalist

"Julie runs one of the most enjoyable concert series we have had the pleasure to play. The Inn has a warm, wonderful sound, only enhanced by the large and attentive audience she provides. Though we booked the show with very short notice, everything went off without a hitch. She was kind enough to put us up for 2 nights around the show, and her family made us feel right at home. We will be looking for any excuses to return to Ohio so we can pass through Brown County again!"

- The Currys (Jimmy Curry, Tommy Curry and Galen Curry) , Charlottesville, VA

""The Old Brown County Inn was a fantastic house concert. The family is a caring, thoughtful one, who not only treated me with kindness and love, but made sure the concert ran smoothly and was the best it could be. I was amazed with the lengths that the Lynches applied to the promotion of the show, as well as the hospitality shown to me. I felt like I was immediately adopted into the family as soon as I got to the house. Finding a house so welcoming is really a gem. I felt at home.""
- Allie Farris, Singer/Songwriter, Nashville, TN

""This is an amazing old historic home in Ohio and definitely not to be missed when your touring through the area. I had a really nice time meeting Julie and her family and wish I could have stayed a few days to see the area and hang out in their beautiful home."
- Annalise Emerick, Singer/ Songwriter, Nashville, TN

""There are house concerts and then there are !!House Concerts!! Old Brown County Inn is the latter. This is an amazing old inn that basically brings to life a Dickens novel right before your eyes. It is clearly meant to have music resonating through the high ceilings, all the way up the banister to the top floor. Julie and James Lynch are more than great hosts, they are beautiful peeps and their love of sharing music in their gorgeous home with friends and family is apparent.
This one is a gooder. Trust me."
- John Wort Hannam, Singer/Songwriter, Alberta, Canada


---
Bird's Eye View

Satellite view of the Inn Property. The Book House is show but not labeled, behind the Inn. The wooded and open property across Brown County Inn Rd (labeled here as Church St) includes additional trails and restful spots.
---